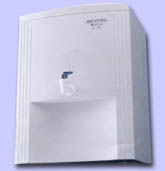 Bio Pure R.O. Water Purification System |
A Pride Response to Malaysian Made Product – An Exemplary Response to Malaysian Made Products

Employing the most advanced water purifying technology, the Reverse Osmosis Technology, Narisia Bio Pure R.O. water pirifier is the synergy effect of combining the most reliable purifying components imported from prestigious and reputable parts manufacturer all over the world.

The Pioneer R.O. Manufacturer In Malaysia
A member of the Elegant Group of Companies, which is a well established trading company since 1987, Narisia Sdn Bhd appeared as Malaysia's pride for being the first to employ the most advanced water purifying technology, the Reverse Osmosis Technology in the manufacturing of high quality Water Purification system.
Credits AWARDED – R.O. System received numerous compliments honors and approvals as follows :
Approved by College of Medicine, US, Harvard University
U.S. National Sanitation Foundation Testing Laboratory Seal
Listed with the International Associated of Plumbing and Mechanical Operators
Approved by College of Medicine, U.S. LOMA LINDA University
Approved by Water Administrations Bureau of Orange County, Calofornia U.S.A.
Recommended by U.S. doctor, Dr. T. C. McDanieli
WCTS Standard
CCEL Standard
Used in NASA Space Shuttle
Adopted by Coca Cola
Used to transform sea water intro fresh water (Desalination) by U.S. Navy


Value Added After Sales Service
-The first manufacturer of R.O. Water Purification System who owns a high, efficient and reliable service team
- Provided free consultation services
- Naiton-wide home service available
- Provides extensive services including contractual repairs, normal maintenance, break-down repairs and installation of R.O. Water Purification System


High Production Rate
Can produce 225liters of water daily (50 gallons)


High Quality Activated Carbon Filter
Can filter 11250 liters of water (2500 gallons)

Superbly Refined Third Filter Core
R.O. Membrane with 0.0001 micron

High Quality Water Pipe Fittings
Easy to install and able to sustain water pressure of 125 psi and 100% leak proof


Very Low Electrical Voltage 24V (volts)
Very safe and will not endanger life even if short circuit occurs

AC Adapter Contains Built In Thermal Fuse
Parts are protected from over loading

AC Adapter Is Fixed Directly To The PLug
Prevent high voltage short circuit at all times

The Entire R.O. Purifier Casing Is Made Of ABS Food Grade
The quality of water will not be affected

Automatic Membrance Cleanser
Cleans membrane automatically every hour when water is in production to cast out unwanted particles ensuring the purity of water

Automatic Electronic Sensor
Maintains the water volume, prevent spillage, ensuring water availability, while saving water and electricity

Automatic Power Shut Off
Low pressure switch, shut off equipment automatically once water supply is cut off, saving electricity while ensuring users safety

Pre-Adjusted Boosted Pump (110 psi)
Pre-adjusted and there is no need to worry for the water pressure changes

The First, Second, Third and Fourth Filter Core Are American Made With High Reliability
Imported from Korea or Taiwan

Patented Mould Water Container, Able To Store 10 Liters of Water To Cated For daily Water Needs
- Easy to clean & maintain
- No dead ends

The PIONEER and Market Leader
Over twenty thousand ( 20,000 ) units installed in Malaysia

Grant Pure Living Water To LIFE – The best Water Purifying System ever produces the purest form of water
Many Health Experts believed that drinking polluted water is associated with the hardening of blood vessels, arthritis, kidney stones, vision problems and etc.

Produces ENERGIZER Pure Water
Far infrared rays emitted by Bio Ceramics activate water molecules to produc energized water which gives the following benefits :
- Detoxification
- Enhance absorption of water into human body
- Provide high dissolving power
- Balance the PH of water
- Enhance the body metabolism

Testing of Water By Electrlysis
Most acceptable indication of water purity.