TESTIMONI PRODUK BEAUTY : LD-ESTEM
LD ~ Esteem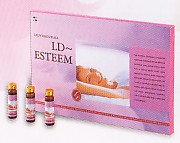 1."I Hope That One Day My Breasts Would Not Be A Sight For Sore Eyes"


Ong Yim Fun
For many years, I have been suffering from undeveloped breasts. I have put up with much teasing from friends mainly because I am tall and flat. It wasn't very long before I lost my self-confidence, with only hope that one day my breasts would not be a sight for sore eyes.

The day then came when a friend of mine introduced me to Elken's LD~Esteem. DUring the period of regular consumption, I realized that my breasts had gone through some expansion. At the same time, I alsoexperienced minor pains as I experienced during puberty. After which, my cup size grew from cup A to cup B.

Now, with the presence of LD~Esteem, I have regained my self-confidence. Thank you Elken for this marvellous product.
2 "My Breast Are Now Solid And Firm"



Puan Misnah Bt. Abdullah
I am a 38-years old woman with 3 kids. The biggest problem I faced in life were my breasts. I could not never wear proper clothes to fit. Anything I wore just didnt seem right. The problem worsende after I had to breat-feed my baby. My left breast became smaller than the right one.

I went in seek for solution to solve this problem and thank God I found LD~Esteem. After using LD~Esteem, I feel the difference in my breasts. The feeling is sensational. I can feel it tickling; veins in my breasts becoming tighter and I can feel my breasts growing in balance. Most importantly, my breasts now fill my bra, as they are solid and firm. I am very grateful to LD~Esteem for this wonder.
3. "Now I Feel More Confident and Great"



Puan Norin Bt. Din
I am a monther of 4 beautiful kids. However, I used to have a low self-emteem due to sagging breasts that had lost its attractiveness. I could no longer walk in a crowd and not feel humilated with the way my breasts looked.

After using LD~Esteem, my breasts have regained their elasticity. They are mre full and more alluring when I wear my favourite clothers. Now i feel more confident and great. I am able to once again walk in a crow wiht my head up. Thank you LD~Esteem and thank you Elken.