TESTIMONI PRODUK BEAUTY : MAJESTA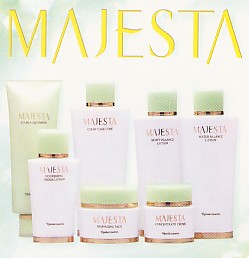 For Smoother Skin, We Choose Majesta
1. "Thank You Elken For The Beauty Youíve Poised In Me !"




Pn. Hajah Tam
Before I was introduced to Elkenís Majesta skin care products. I used many other facial products. I am always conscious about my appearance, as I always believe that oneís appearance sells oneís self. Unfortunately, I was not graced with lovely skin. I used to suffer from problems like wrinkles and terrible dark spots. All the products I used served no purpose, as I could not see any difference.

Thanks to Elken, I now have lovely skin, the appearance I once dream of. My skin is now soft as silk. I am very convinced and satisfies with the series. I do not use any other facial products nowadays except for Elkenís Majesta. Thank you Elken for the beauty youíve poised in me.


2. "With Majesta, My Skin Is Now More Lustrous !"




Wendy Choong Mun Kuan
I have never had skin problems such as pimples or acne. My complexion too has always been clear. However, since my skin is of a dry nature, my skin has become dull and wrinkled.

After using Majesta skin care products for only one month, my complexion became so much fairer. Then I applied the Majesta Concentrate Cream and it began to show luster. I now use the Majesta Massaging Pack and the Guasa Technique everyday.

Now I am proud to say that my wrinkle lines have become lesser, my complxion is lustrous and I have more confidence in myself. With the presence of Majesta in my life, people do not know that I am actually a mother of 3. thank you Elken for this wonderful product.


3. "I No Longer Have Any Scare On My Face..In Fact : I Am More Beautiful Than Ever !"




Janice Chen
I have been suffering from acne problems on my face for the past 20 years. My mid0twenties were the worst phase of my life. The usage of wrong skin care of facial applications would lead to swellings, redness, itchiness and pustules all over my face due to my skin being very sensitive.

Throughout the years, I have spent a fortune on treatments by Dermatologists, Beautician as well as Chinese Physicians. Unfortunately, it was all to no avail. The Dermatologists that I had consulted prescribed me with antibiotics and skin care products. It did have a slight improvement, but my skin became very dry. It also left side effects, as it made my body very weak and I suffered from heavy discharge. I was then referred to a Gynaecologist for other treatments.

Soon later, I was introduced to Elkenís Majesta skin care products. After using this product, I felt an incredible improvement. I was surprised that there were no side effects and my acne problem began to disappear. As I continued using Majesta, it continued its miracle and today I am proud to say that all my acne problems are solved.i no longer have scares on my face..In fact, I am more beautiful than ever. Thank you Elken for your wonderful products.